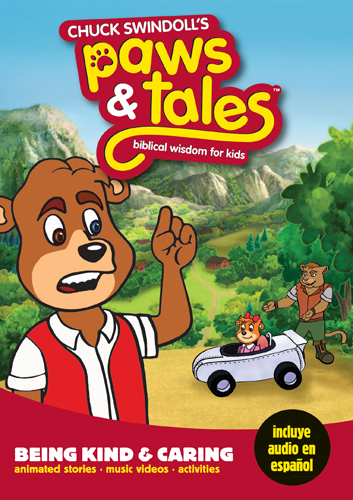 The DVD has two 25 minute episodes that are opened by a short introduction by Chick Swindoll. This particular DVD is the 8th in a series. The main characters C.J. and Staci, best friends and school-aged bears who are learning what it means to live like a Christian. The first episode: The Hullabaloo at Hunker Hill was mostly about a bully named Hugh who gets blamed for a pretty serious accident involving Staci and a soapbox derby car. Ultimately, it is a story of forgiveness and is based on Matthew 18:21-22. The second episode: The Great Go-Kart Race was all about working together. C.J. has organized a club made up of his friends, but everyone has their own idea of how the club's go-cart should look. They end up splitting up and coming up with some pretty sorry racers that each have their issues. In the end, they decide that working together is the best way and is based on Matthew 6:14.
Our family is not familiar with this series, but it looked good. So, I watched this DVD with my three year old son. He really liked the colorful characters and I liked the message. I also like that they didn't show a "fight" scene between two of the kids. There is also an option to print some resources on the computer which I plan on checking out.
Overall, I give it 4 stars and may check out other titles in this series.
Tyndale House Publishers has provided me with a complimentary copy of this DVD in return for this blog.